Learn about our company and history
Showroom Shine is a 100% mobile business that comes to you when it is convenient for you. We are a Chapel Hill based business that has been operating for several years and have an customer satisfaction record!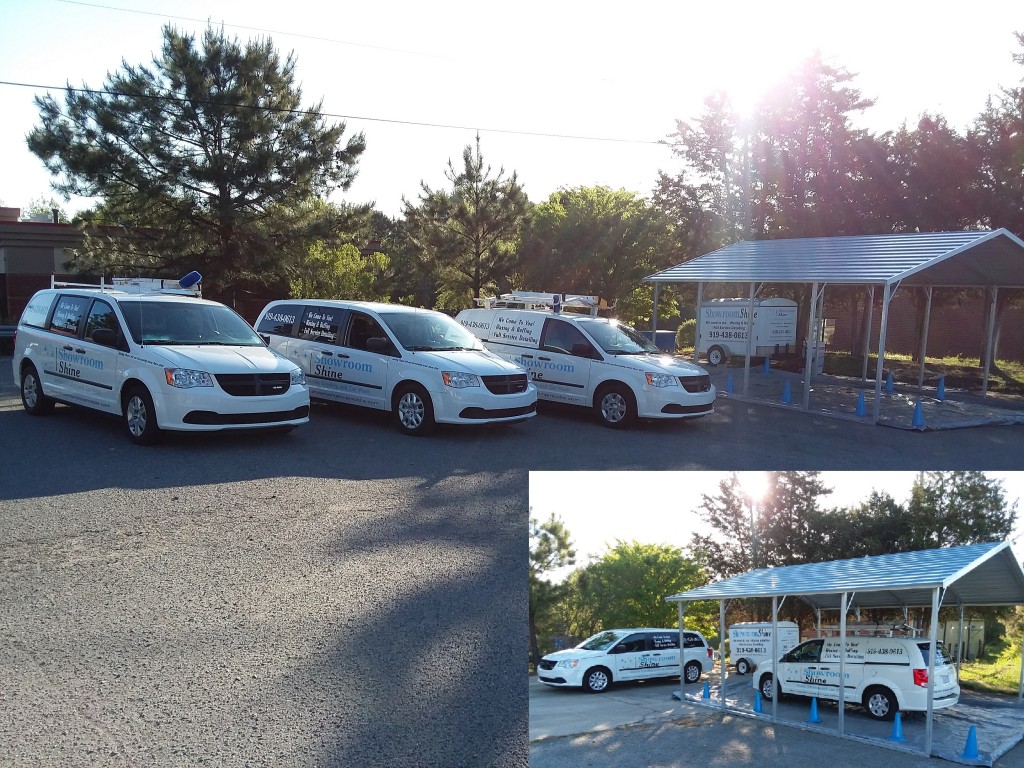 For the exterior, we use Majestic (a Raleigh-based company) commercial grade cleaning supplies. We do a complete machine wax with our full packages. Our full detailing packages include a full compounding of the exterior which will remove any deep scratches, hairline scratches and oxidation. After compounding, we will polish the vehicle to remove any swirl marks and it will leave it with a dark and rich shine. Also with the exterior, we dress and condition all exterior moldings.
Customer Reviews
See what our customers are saying about us!
"Like other men and women, I have "had a love affair" with my cars. I treat them well and expect those persons to whom I entrust them to treat them well also. I recently had my wife's car detailed in our own driveway by Ricky Carroll and I can assert with confidence that no other person or enterprise has ever detailed or otherwise serviced a family car of mine as patiently and thoroughly as Ricky and his co-detailer did early this week. the car was spotless inside and out, and my busy new detailing friends had left all of my car doors and windows open in order to introduce fresh, dry air into the interior of the car. Ricky has allowed me to applaud his recovery of the "like new" exterior of the car as well as the indoor surfaces and applications. I am recommending Showroom Shine to family members, friends, and even strangers who accept printed cards provided to me by Ricky. The word of his excellence is spreading, and friends and neighbors already are standing in line to receive the same quality of service that my own family has already enjoyed."
– Paul Hardin | Former UNC Chancelor and former head of the Law School at Duke University | Chapel Hill, NC
"Showroom Shine has quickly established itself as the friendliest, most thorough, and consistent mobile car wash company in Chapel Hill. Oh yeah, their prices are great, too. I recommend Show Room Shine to all my friends and customers."
– Marc Pons | President | Chapel Hill Tire Car Care Center | Chapel Hill, NC
"My 24 year old Mercedes Benz 560SL looks better now than when I bought it 12 years ago, you did a fantastic job of interior restoration and body detailing!"
– John Kiley | Chapel Hill, NC
"My car was beautiful inside and out after Showroom Shine detailed it in my office parking lot while I worked. It was extremely convenient, and I'm so pleased with the results. Thank you, Ricky!"
– Meg Branson | Vice President, Membership | Chapel Hill-Carrboro Chamber of Commerce | Chapel Hill, NC
"Ricky's attention to detail, professionalism, and tremendous pride in his work shows every time he details my car. I would recommend Showroom Shine to anyone!"
– Abby M. Spoon | Director of Business Development | Chapel Hill-Carrboro Chamber of Commerce | Chapel Hill, NC
"My car looked like new after Showroom Shine detailed it. Ricky's work stands head and shoulders above the rest; it's without question the best detail job I've had on a minivan."
– Wendy S. Tanson | ReMax Realty | Chapel Hill, NC
"Excellent work, quick and professional and my car looks like brand new in and out!"
– Chen Li | Director of Deveopment for Oenza | Chapel Hill, NC